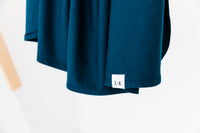 Bamboo Swaddle Blankets
Our modern + simple collection of Swaddle Blankets. Each made from our buttery soft Bamboo blend fabric. Soft enough for newborns but large enough to take into the toddler years. A must have for your hospital bag.
VIEW ALL
Bamboo Knotted Gowns
The easiest outfit for day or night. The knotted bottom makes for quick and easy diaper changes or diaper checks. Envelope neckline for stress free dressing, and fold over scratch mittens. Designed in one size 0-3 months for longer use.
Shop Now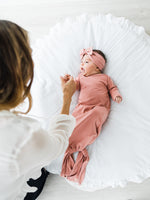 Bamboo Top Knot Hats
Our Top Knot Hats provide your baby with the extra warmth and comfort they need. Super soft, breathable and lightweight fabric so your baby will stay cozy no matter the season. A must have for your hospital bag!
VIEW ALL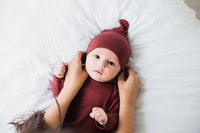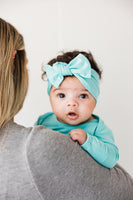 Bamboo Headbands
Comfortable enough to wear all day and stretchy enough to last into the toddler years.  Made from our super soft Bamboo Fabric - no elastic! Pair with our Knotted Gowns and Swaddle Blankets
VIEW ALL